BLOG
Increase your visibility with the Booking Genius programme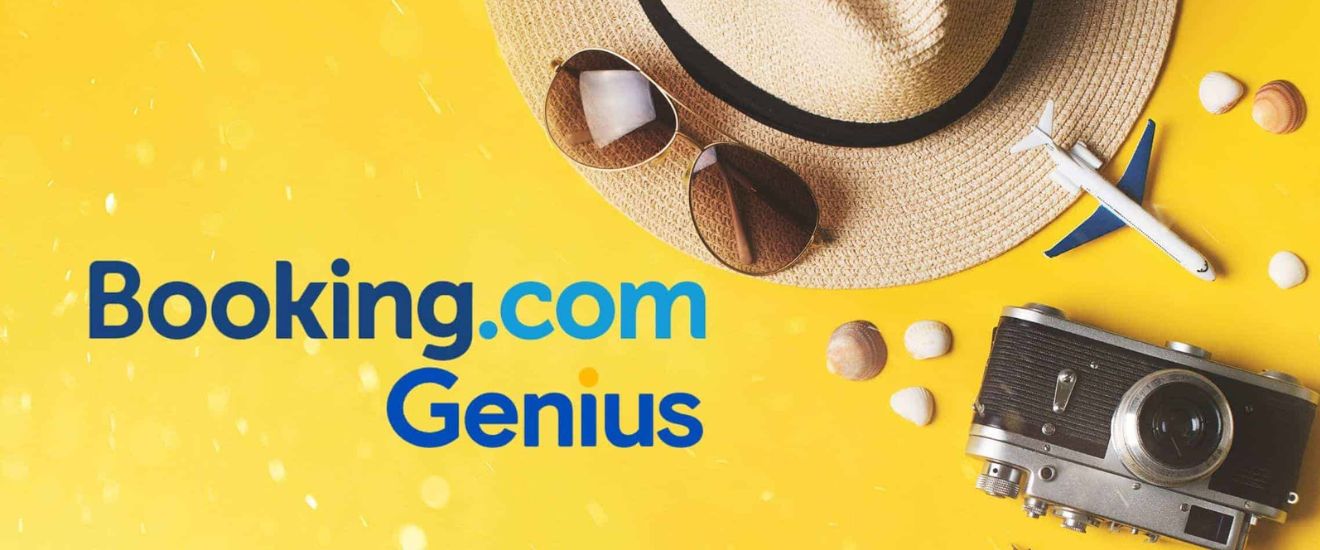 Booking.com, one of the world's largest booking platforms, has long been synonymous with easy and reliable accommodation search around the world. With their innovative Genius programme, they have set a new level of convenience for their loyal customers. Who doesn't love exclusive benefits, discounts and special deals?
What is the Genius programme?
Genius is a marketing programme designed to help accommodation providers stand out to Booking's most valued guests and to generate additional bookings and revenue.
The Genius programme is designed specifically for loyal users of the Booking.com platform. By joining the Genius Programme, accommodation providers have a great opportunity to increase their bookings and attract more guests.
How does the Genius Programme work for accommodation providers?
Very simple! Once you reach a certain threshold of guest bookings or guest nights on Booking.com, you become a "Genius-friendly" provider. This means you'll be rewarded with a Genius label, which will highlight your accommodation to preferred customers in search results, increasing your visibility.
You are not automatically enrolled in the Genius programme, but must join it. When Booking invites you to join the programme, all you have to do is offer Booking's most valued guests a minimum 10% discount on the cheapest and/or best-selling room.
To join the Genius Programme you must have: an average rating of 7.5 or higher across all reviews received a minimum of 3 reviews.
How many Genius Levels are there?
There are currently three Genius Levels:
GENIUS LEVEL 1: Give travellers a 10% discount on 1 or up to 2 units. The system offers a discount on the cheapest and best-selling room. All other units remain without discount. This genius discount is best suited for suppliers who have several units available. Advantage: guests prefer to see the whole accommodation on Booking, not just the discounted room. The traveller unlocks the discount as soon as he/she joins Booking.

GENIUS LEVEL 2: Once a traveller has completed 5 or more stays in the last 2 years, he/she can enjoy this level of the programme. A 15% discount is available. He/she can enjoy free breakfast on selected stays and free room upgrades on selected stays.

GENIUS LEVEL 3: Once a traveller has completed 15 or more stays in the last two years, he/she can enjoy this level of the programme. He/she also enjoys free breakfast on selected stays, free room upgrades on selected stays and priority support on all accommodation bookings. Genius Level 3 guests cancel 10% less frequently than non-Genius customers.

GENIUS DYNAMIC DISCOUNT: This means that instead of one discount, you will offer a range of discounts from 0% to 20%. The system will offer different discounts depending on demand, adjusting them according to the days when you need it most. For example: if demand is high and occupancy is also high, the Genius discount will be reduced. If demand is low and the price is also low, the system will apply a discount up to a certain % to make it easier for Booking to sell you.

The Booking portal also provides analytics for rooms sold by different discounts to help you monitor which discounts have been the best sellers.
What are the Genius guests like?
The Genius programme brings a number of benefits for both travellers and accommodation providers.
Genius guests spend more
One of the most attractive features of the Genius programme is that guests who are part of this exceptional loyalty programme typically spend 15% more when booking. This increased spending allows accommodation providers to enjoy a higher return on their services.
Genius guests book further in advance
Genius guests are also known for booking their stays further in advance. In fact, they book as much as twice as far in advance as normal guests. This means that providers can better plan their capacity and ensure higher occupancy over a longer period of time.
Genius guests write more comments
Genius guests love to share their experiences with others. They write 29% more comments and often give higher ratings to accommodation providers. This not only enhances the reputation of the providers, but also helps other travellers to decide on the best accommodation.
Thus, the Genius programme benefits both travellers and accommodation providers. Travellers enjoy exclusive benefits and special treatments, while providers strengthen their business and attract more loyal guests.
Can we cancle the Genius discount?
You can suspend Genius discounts for up to 30 days each year (you choose the dates on which you want to temporarily deactivate Genius discounts and benefits in your accommodation). This way, you retain control to deactivate them when you don't need them. If you decide to leave the Genius programme, you can reconnect after 6 months.
Does the Genius discount stack with other active discounts?
Yes. Care should be taken when setting up different promotions, as certain discounts on the Booking platform are cumulative. The Genius discount is cumulative with other promotions.
Conclusion
The Genius Programme is a great opportunity for accommodation providers to increase their visibility, attract more loyal guests and improve their business, while Genius guests enjoy exclusive benefits and special treatment that enhances their booking experience on the Booking.com platform.