BLOG
Discover Top 6 Vacation Rental Platforms for Hosts and Travelers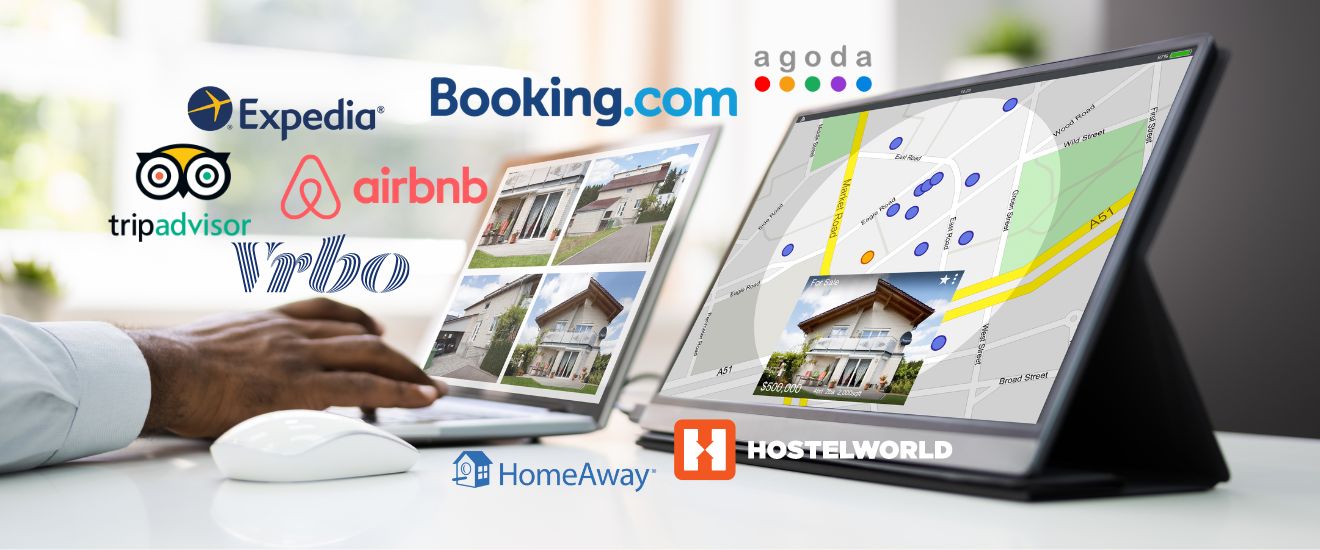 If you are an accommodation provider, you are surely looking for the best online booking platform for holiday rentals where you can showcase and rent out your accommodation. The key is to reach as large an audience as possible and find the perfect guests for your accommodation. That's why we've researched and compiled a list of the best online holiday rental booking portals to help you achieve your goals.
For you as an accommodation provider, these sites are the ideal place to reach your target group at the right time and in the right place. If you want to increase the number of bookings and reach more guests, it is crucial that you advertise your property where your potential guests are.
Booking
Booking is one of the world's leading accommodation booking sites, allowing guests to easily search and book holiday accommodation worldwide. It is a platform that offers a wide range of options including hotels, apartments, holiday homes, villas, hostels and other types of accommodation.
Hosts can use Booking to advertise their holiday accommodation and reach more potential guests.
Main features of Booking
You can list your property on Booking for free.
The commission taken by Booking from the host is a minimum of 15%.
Guests do not pay any additional commission related to the booking.
The host decides whether to charge for the services of the stay (cash, credit cards, virtual cards) or to leave the payment system to Booking. In that case, Booking will charge an additional 1.2% bank fee.
Only instant bookings are available.
The host receives the payment in his/her transaction account one time per month or four times per month.
The host receives an invoice for the commission charged, as follows.
Guests have the possibility to rate the accommodation from 1-10 and make a comment that is publicly visible for more than 2 years.
Airbnb
Airbnb has brought an innovative solution to tourism that connects people and provides unique stay experiences. With its global presence, it has become a popular choice for travel, providing a more flexible, personal and local experience for travellers around the world.
Main features of Aribnb
You can list your property on Airbnb for free.
The host can choose between two commission options: the host takes the full commission, which is 15% of the booking value. In this case, the guest is not charged an additional commission. Or, the host shares the commission with the guest. In this case, the host pays a 3% commission and the guest is charged a 12-20% commission on the amount of the booking.
The host can choose whether to confirm the booking (on demand) or turn on the instant booking option.
On Airbnb, the transaction is cashless, which means that the guest pays for the accommodation before arrival. Payment to the host is made within 24 hours of arrival to the specified transaction account or PayPal.
Airbnb allows instant bookings or the possibility for the host to confirm the booking.
Airbnb provides insurance for both the host and the guest in the amount of USD 3 million.
Guests rate the host from 1 to 5 and provide a comment, and the host can also rate the guest.
Vrbo
Vrbo (Vacation Rentals by Owner), formerly HomeAway, now part of the Expedia Group, is a popular online platform for booking holiday accommodation. Vrbo focuses on connecting property hosts with potential guests looking for comfortable and spacious holiday accommodation.
While Airbnb offers a diverse selection of accommodations, including apartments, houses, rooms and unusual spaces, Vrbo is more focused on holiday homes, villas, cottages, apartments and other similar types of holiday accommodation. Vrbo offers more options for larger groups and families looking for more spacious accommodation. Vrbo is more popular for long-term bookings, such as holidays of several weeks or months.
Vrbo is more oriented towards traditional holiday destinations such as coastal towns, resorts and rural regions where people are looking for holiday homes for a break.
Main features of Vrbo
Only private houses, villas and apartments can advertise. If you have a spare room to rent, please note that you cannot advertise it on Vrbo and that you should consider other booking portals.
Hosts can choose between an annual subscription of $499 or a pay-per-booking option.
If the host chooses the pay-per-booking option, they pay a 5% commission and a 3% credit card fee per booking.
Guests are required to pay a service fee of up to 12% per booking, sometimes more. There may be additional fees such as a pet fee, cleaning fee or other fees.
Minimum notice period is 14 days prior to arrival.
Vrbo attracts mainly guests who stay longer and spend more money.
Expedia
Expedia is one of the world's leading online platforms for booking travel and accommodation. Founded in 1996, Expedia has since grown into a globally recognised brand that makes it easy for travellers to search, compare and book flights, hotels, holiday accommodation, cars and other travel services.
Main features of Expedie
Listing on Expedia is free of charge. However, there is a commission of 10-30%. The exact amount of the commission to be paid to Expedia will be found in your final contract as the host.
Guests use Expedia to plan their trips from start to finish. They are likely to book accommodation when buying air tickets and renting a car.
You cannot place an ad on Expedia if you have only one accommodation. Expedia is for those who rent out several accommodations at the same time or have several rooms.
If you have placed an advert on Vrbo, your accommodation will also be advertised on Expedia, as Vrbo is a member of the Expedia family.
TripAdvisor
TripAdvisor is a renowned online platform offering information, reviews and bookings related to travel, accommodation, restaurants and other travel services. It is one of the largest platforms providing travellers with reviews, ratings and travel recommendations to help them plan the perfect trip.
Tripadvisor allows users to search and compare prices for hotels, flights, restaurants, attractions and other travel services. Users can read other travellers' reviews, view photos, study ratings and comments to gain insight into other people's experiences.
Main features of TripAdvisor
TripAdvisor charges a 3% booking fee. When you list your property on TripAdvisor, it will automatically be featured on FlipKey. This means more visibility and exposure for your property.
The guest fee ranges from 8% to 16%, and can sometimes be lower. The fee is automatically added to the guest's account.
Hostelworld
Hostelworld is a renowned online platform for booking hostel accommodation worldwide. It is primarily aimed at travellers looking for affordable accommodation and a social environment during their travels. Hostelworld is known for offering a wide selection of hostels with different options to meet the needs of different travellers.
Hostelworld's target group is mainly young travellers, students, backpackers and those travelling on a budget. However, it is important to note that Hostelworld is not limited to young travellers. Their offer also includes family hostels and other types of accommodation, allowing a choice for different types of travellers.
Main features of Hostelworld
The booking platform is primarily for accommodation offering budget accommodation.
It is mainly advertised by hostels, but the platform is not limited to this type of accommodation. Individual accommodation providers, private rooms, guesthouses, bungalows, pensions, one- and two-star hotels, etc. can also advertise.
The ad will be published after review and approval by the Hostelworld Administrator, who will contact you during the ad preparation process.
The commission taken by Hostelworld at the time of booking is 15%.
Hostelworld also has a messaging (chat) system where individuals can connect and plan activities together.
Which online booking platform should I choose to list my accommodation as a provider?
It is difficult to determine the absolute best booking portal for hosts, as the choice is based on individual needs and preferences. However, it is important to recognise that each booking portal brings its own advantages and possibilities to reach different target groups.
When advertising on multiple online platforms, it is also important to follow the rules and policies of each portal and carefully manage bookings, guest communication and reviews. Check your settings regularly, answer guest queries in a timely manner and provide quality service to create a positive guest experience.
When hosts advertise their accommodation on multiple online platforms, it is important to ensure efficient management of bookings and avoid potential issues with double bookings or problems with coordinating availability. To this end, hosts can use a booking engine or Bentral channel manager, which allows the synchronisation of booking, availability and pricing data between different booking portals. This simplifies the management process and reduces the possibility of errors, ensuring that data is always up-to-date across all platforms.
Finally, the key is to regularly evaluate results and adjust advertising strategies based on the analysis of bookings, guest feedback and business results. Monitoring statistics and trends can help hosts to adjust prices, improve services and target the right audience.
It is important that hosts use booking portals as a powerful tool to advertise and reach a wide audience of potential guests. By using and managing bookings properly and carefully, and by complying with the rules and policies of each portal, hosts catripn achieve success in broadcasting their holiday accommodation on multiple platforms.